During my daily indulge of blog reading I came across this post on
I Suwanne
. I am in love with this bench. It is oozing personality and I think something very similar, in our basement, would fit perfectly.
My major in college was Anthropology. One of my favorite classes while at Iowa State was Southwest Archaeology, where I learned about the Anasazi, Hohokam, and Navajo. Jeff and I even honeymooned in Santa Fe/Taos. We fell in love with the atmosphere and all the art. I have been wanting to incorporate a rug like this into our house (without actually using it as a rug) and this seems like the perfect fit!
I would switch it up though, and use a rug that looks something more like one of these.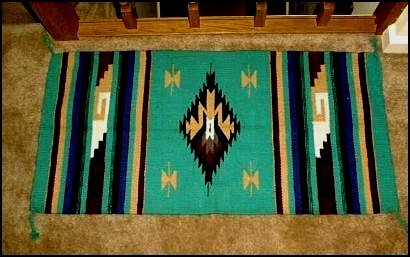 Brilliant Idea. Aren't the rugs and the patterns gorgeous!?